Spring is almost here and I don't know about you but I am so ready. I love this time of year because everything starts to turn GREEN! I have really had the springtime itch lately and decided I NEEDED to create some spring feeling in my house...
Have you seen all the green in the new Pottery Barn catalog....LOVE...and it is just screaming out for me to sit on that bench and enjoy a warm spring day!
I was inspired by these faux pear blossom branches...but for $39.00...I decided to create something similar on my own.
I gathered a few sticks from the yard and spray painted them white.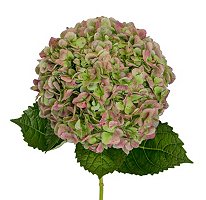 I picked up some green hydrangeas stems from my local craft store.
Then I pulled off the flowers and hot glued them at each stub(I'm pretty sure that not the technical term...but you know where I mean...right?) on the branch where a normal flower bud would bloom.
And now they look like this...not an exact match...but still the perfect pop of spring in my dining room.
I'm still working on the rest of my "spring" dining room vignette...but check back and I will show you soon!